St Paul's Church
Church Bank, Jarrow, NE32 3DZ:
0191 489 7052
St. Paul's Church and Gift Shop are open at the following times:-
Sunday 2:00pm -3:30pm
Monday to Saturday 11:00am -3:00pm
Up to date times of our services can be found on this week's pew sheet and on the calendar.
We look forward to welcoming you to our Anglo Saxon Church and gift shop.
The church is open to visitors and for private prayer
To arrange group visits please ring 0191 4896670

St Paul's is the historic church of the Parish of Jarrow and Simonside the site of worship over many centuries.
The church frequently hosts baptism and marriage services and is a major site of pilgrimage for those following the Venerable Bede and the Northern Saints.
Visitors are welcome to explore the building - see the opening times above. We welcome many individuals and groups throughout the year, whether as visitors, tourists or pilgrims. We can offer a short history of the site, and the opportunity for quiet reflection and prayer. Come along to one of our regular services (see the calendar page) and share with us in refreshments and chat afterwards.
The Chancel of St Paul's - the original monastery chapel of AD681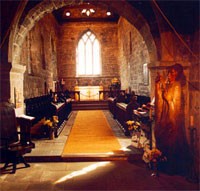 The chancel is a direct survival from the 7th century in which Bede worshipped when it was a free-standing chapel of the monastery.
Inside the church, cemented into the wall of the tower, is the original stone slab which records in a Latin inscription the dedication of the church on 23 April AD 685, which is the oldest church dedication stone in England.
The inscription reads:
DEDICATIO BASILICAE
SCI PAUL VIIII KL MAI
ANNO XV EFRIDI REG
CEOLFRIDI ABB EIUSDEM
Q ECCLES DO AVCTORE
CONDITORIS ANNO IIII
This translates as:
The dedication of the basilica
of St. Paul on the 9th day before the Kalends of May
in the 15th year of King Ecgfrith
and in the fourth year of Abbot Ceolfrith founder,
by God's guidance, of the same church.
Behind the church you can see remains of the Benedictine monastery of the Middle Ages which was re-founded on the site of Bede's monastery. Remains of buildings, from the days of Bede, were found in excavations and their positions have been marked out on the ground.
Some Key Facts about St Paul's: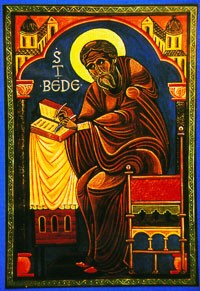 THE PRAYER OF THE VENERABLE BEDE
(one of our most famous past residents)
I pray you, good Jesus,
that as you have given me the grace
to drink in with joy the Word that gives knowledge of you,
so in your goodness you will grant me
to come at length to yourself,
the source of all wisdom,
to stand before your face forever.
Amen.